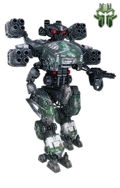 Class: Mech specialized in missiles
Faction: Pelistal Empire
As the commanders of Empire legions, this class of brusque tyrants play a significant role in the Empire's society. Their undaunted service of keeping order failed only once, resulting in a revolt of former Empire commanders. The consequences are well known: the Nuimqol Union was formed.
Pilot Pre-Requisites
Edit
| | | |
| --- | --- | --- |
| Catagory | Extension | Level |
| Robot Control | Pelistal Robot Control | 5 |
| Robot Control | Advanced Robotics | 1 |
| Robot Control | Basic robotics | 4 |
Robot Bonuses
Edit
| | |
| --- | --- |
| Effect | Bonus |
| Locking Time | 5% |
| Medium Missile Damage | 5% |
| Accumulator Recharge Time | 5% |
Robot Stats
Edit
Accumulator Capacity:
2000 AP
Accumulator Recharge Time:
420 sec
CPU Performance:
300 TF
Reactor Performance:
900 RP
Armor:
2100 HP
Chemical Resistance:
30 Points
Kinetic Resistance:
10 Points
Seismic Resistance:
45 Points
Thermal Resistance:
150 Points

Targeting Equipment

Edit
Locking Range:
210 M
Locking Time:
12.50 Sec
Maximum Targets:
5 Pcs
Missile Guidance failure:
10%
Sensor Strength:
120Hw³
Misc:
2
Head:
4
Industrial:
2
Legs:
3
Missile:
4
Turret:
2
Ammunition reload time:
10 Sec
Cargo Capacity:
9.00 U
Mass:
24550.00 Kg
Slope capability:
45º
Surface Hit size:
8m
Top Speed:
43 Kph
Volume:
19.00 U