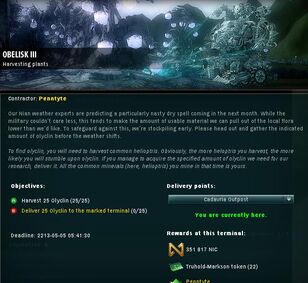 Quick Facts
Obelisk III
Level:
3
Contractor:
Penntyte
Type:
harvesting Plants
Island:
New Virginia
Start:
Cadavria Outpost
Delivery Point:
Cadavria Outpost
Assignment:Obelisk III
Edit
Harvest 25 Olyclin (from Helioptris)
Objectives
Edit
A Harvest 25 Olyclin
B Deliver 25 Olyclin to the marked terminal (0/25)
350k NIC
Truhold-Markson Token (22)
Penntyte Faction will increase
Description
Edit
Our Nian weather experts are predicting a particularly nasty dry spell coming in the next month. While the military couldn't care less, this tends to make the amount of usable material we can pull out of the local flora lower then we'd like. To safeguard against this, we're stockpipling early. Please head out and gather the indicated amount of olyclin before the weather shifts.
To find olyclin, you need to harvest common helioptris. Obviously, the more helioptris you harvest, the more likely you will stumble upon olyclin. If you manage to aquire the specified amount of olyclin we need for our research, deliver it. All the common minerals (here, helioprtis) you mine in that time is yours.
Walkthrough
Edit
Receive assignment at the Cadavria Outpost
Harvest Heliopris until you receive 25 olyclin.
Return to Cadavria Outpost and deliver the item to complete the assignment
Good money maker if you are already harvesting
Good to combine with the other Cadavria assignments
Ad blocker interference detected!
Wikia is a free-to-use site that makes money from advertising. We have a modified experience for viewers using ad blockers

Wikia is not accessible if you've made further modifications. Remove the custom ad blocker rule(s) and the page will load as expected.