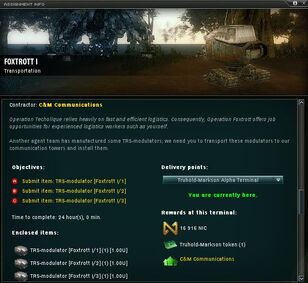 Assignment:Foxtrott I
Edit
Transport Items from TMA Terminal to area SW of terminal
Objectives
Edit
Submit Item: TRS-modulator (Foxtrott 1/1)
Submit Item: TRS-modulator (Foxtrott 1/2)
Submit Item: TRS-modulator (Foxtrott 1/3)
16k NIC
Truhold-Markson Token (1)
C&M Communications Faction will increase
Description
Edit
Operation Techolique relies heavily on fast and efficient logistics. Consequenctly, Operation Foxtrott offers job opportunites for experianced logisitcs workers such as yourself. Another Agent team has manufactured some TRS-modulators; we need you to transport these modulators to our communication towers and install them,
Walkthrough
Edit
Receve assignment at the Truhold-Markson Alpha Terminal
Move the 3 TRS-modulators into your cargo hold (don't forget this step)
Exit terminal and move to the designated locations
At locations a-c, interact with the portals. NOTE: these can be done in any order
Assignment will complete immediately after the 3rd item is submitted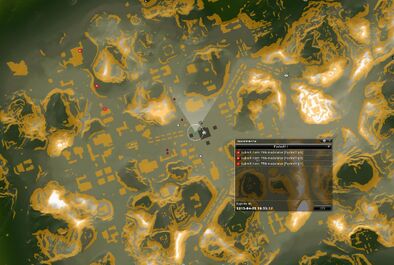 Easy assignment for Logi folks. No NPCs to deal with
Good to combine with the other transport assignments in the area (Foxtrott II and Lumina I)
Ad blocker interference detected!
Wikia is a free-to-use site that makes money from advertising. We have a modified experience for viewers using ad blockers

Wikia is not accessible if you've made further modifications. Remove the custom ad blocker rule(s) and the page will load as expected.